In news that surprised many people, particularly cryptocurrency investors, the Washington Attorney General announced that his office is suing Michael Saylor for tax fraud, just like your company, MicroStrategy.
"Today I am suing Michael Saylor, a billionaire technology executive who has lived in DC for more than a decade but has never paid income taxes to the state, for tax fraud."
For those who are not familiar with the name, Michael Saylor is one of the biggest Bitcoin whales and a very big name in the industry..
Saylor, through his company, has been credited with being one of the catalysts for Bitcoin's latest rally, and is credited with starting institutional interest in the digital currency.
Now Michael Saylor is facing a lawsuit over tax fraud allegations, according to Washington DC Attorney General Karl Racine. The accusation is that he has not paid the necessary tax to the state where he lives for more than 10 years.
Microstrategy is also in demand
It is not just Saylor that is being targeted by the US capital's Attorney General's Office, the company itself is also implicated in the entire case, according to the prosecutor, for helping Saylor evade taxes.
"We are also suing his company, MicroStrategy, for conspiring to help him evade taxes he legally owes on the hundreds of millions of dollars he earned while living in DC."
Earlier this month, Saylor resigned as CEO of MicroStrategy, but remained chairman of the board; he also took on a substantive executive role focused on "Bitcoin acquisition strategy and related Bitcoin advocacy initiatives." As a result, he maintained an important position in the market.
Indictment against Saylor
The lawsuit against Saylor and his company could have originated from a complaint made by someone close to the businessman, considering the information released by the attorney general's office.
«This is the first lawsuit filed under the new amendment to the Washington DC False Claims Act, which encourages whistleblowers to sue residents who evade these tax laws by lying about their residency.»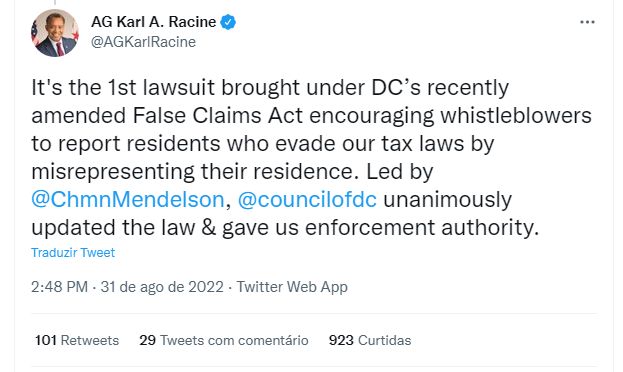 In other words, the process began when someone filed a complaint about this new amendment, which should certainly worry some people, and also points out that the complaint came from someone who knew Saylor's financial life.